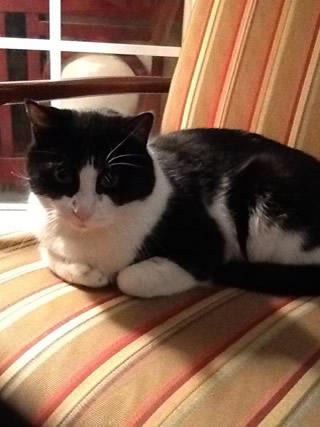 The week before Christmas 2012, we relocated from college station, TX to the Dallas area. It was a big move for us that involved a lot of turmoil for our three cats. Miller, our 3-year-old tuxedo was particularly stressed. We had found Miller as a stray when he was about a year old and while he loved coming home for daily feedings and tummy rubs, he still preferred to live the life of a wild outdoor kitty and spent minimal time indoors. After nearly a week of confinement in the new house, I finally relented and let Miller out. It was December 27th and Miller did not return. We started a campaign to find him including signs, flyers, and repeated visits to many of our local animal shelters with no success. We hoped that he had pulled an "incredible journey" and alerted our old neighbors to be on the lookout for Miller. Days, weeks, months, even a year passed and we lost hope.
Then last week, the week before Thanksgiving and nearly 2 years after Millers disappearance, I got a voicemail from the Keller Animal Shelter that "they had a black and white cat with a microchip registered to me and to please call!" My children and I went crazy running and screaming around the house! Had we really found Miller after all this time? Within an hour, the Good Samaritan who had brought him in to be scanned was at my door with the best holiday surprise ever. He had been hanging around her house for a month and she had finally coaxed him inside and out of the freezing cold weather. He was in great shape and clearly hadn't missed a meal in the past 2 years. But he was lonely for his family!
Since his return, he has been soaking up all the love we have to offer. He has not asked to go outside once. Maybe he matured in the past two years or maybe he just learned not to take food, warmth, safety & his family for granted. Either way we are so thankful to Avid for being instrumental in Miller's return and we think he's thankful too!