MiniTracker 3 (Universal FDX with Bluetooth®)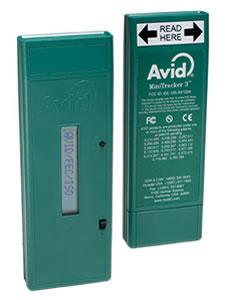 Description
The Avid MiniTracker 3 is engineered for convenience and performance, providing the user with the ideal solution when portability and cost are important. The Avid MiniTracker 3 is small enough to carry in your pocket. Its patented Multi-Mode technology enables it to read id tags from different manufacturers. The MiniTracker 3 is configured to read and display any AVID, FECAVA, TROVAN and ISO (FDX-B) coded radio frequency identification tags.
The ID code is displayed on the Mini Tracker 3's 16 character LCD.
In the operational mode, the MiniTracker 3 emits two beep tones to signal an identification tag has been read. When not in use, four beep tones sound every three minutes to warn the user that the unit is still on.
Read Distance (Inches)

| ID Tag | Read Distance |
| --- | --- |
| Avid FriendChip | 4.75 |
| FECAVA | 4.75 |
| TROVAN | 3.0 |
| ISO FDX-B | 3.25 |
Application Notes
Documentation