Industrial Reader (Avid, Memory)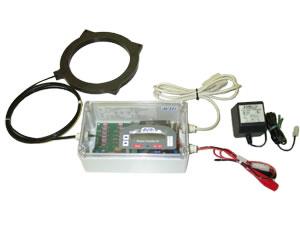 Description
The Avid Industrial Reader is a durable stationary reader that features a pass-through antenna. The pass-through antenna is water-proof and available in 6, 12 or 24 inch diameters. The Avid Industrial Reader is configured to read and display any Avid or FECAVA coded radio frequency identification tags. An optional memory module can be added to store up to 2000 Avid or FECAVA codes with a date & time stamp. The reader is encased in a NEMA-rated enclosure and all cables and wires exit the enclosure through water resistant cable clamps. The reader can be powered with a 12V car or motorcycle battery or by a Class II wall plug-in transformer. This reader is excellent for research projects where the reader will be left on site to record pit tagged animals' movement.
Software
The Industrial Reader is compatible with any software that supports serial port communications. Please consult our customer service representatives at 1-800-336-2843 Option 3 for Avid's premium software solutions.
Avid Reader Wedge for Microsoft Windows® 7, 8, and 10
The Avid Reader Wedge automatically transfers reading results to Windows® as keyboard entries. To install the Reader Wedge, extract the package and run setup.exe.
See the Avid Reader Wedge User Guide for details.
Application Notes
Documentation