PETtrac offers special membership programs for military service members and people with disabilities. People who qualify for these programs can save money on registration and updates.
Military Service Member Program
In honor of the men and woman who serve in our nation's military, we offer unlimited free registration updates to active duty service members. When you move or transfer to another military installation PETtrac will update your pet's microchip registration for free. To qualify, send us a copy of the letter from your personnel office confirming your military status and we will update your pet's registration.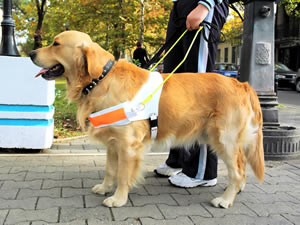 Avid Identification Systems, Inc., in its support of the service animal movement, offers a free AVID FriendChip and PETtrac registration for service animals. The ADA regulations define a service animal as a dog that is individually trained to do work or perform tasks for a person with a disability. Since 1987, countless thousands of service dogs have been identified with the AVID FriendChip, for free. Read more >>